The SW leg of Calgary's Ring Road is proceeding. Hopefully, you are aware that the Discovery Ridge Community Association (DRCA) Ring Road Committee continues to proactively work with Alberta Transportation (AT), our MLA and the Minister of Transportation to mitigate the potential impact of the imminent Southwest (SWCRR) and West Calgary Ring Road (WCRR) on our community. We are about to cross another critical milestone and we wanted to provide residents with a status update and important information about the segment of the Calgary Ring Road along our northern boundary.
Ring Road Timing & Status Update
Work crews have been active along Highway 8 over the past several months undertaking preliminary work of this P3 (Private Public Partnership) project. Mountain View Partners was selected earlier this year as the primary contractor and full construction of this 21 km segment, which runs from the Elbow Springs golf club, down through the Tsuut'ina reserve, to Spruce Meadows Trail and across to Macleod Trail SE is slated to begin this fall! The full definitive agreement with Mountain View Partners is expected to have been executed on September 13, a few weeks before the publication of this article. Completion is expected in 3 to 4 years.
As we noted in an earlier article, the Highway 8 portion of the Ring Road is now part of the SWCRR project set to begin construction this fall. The status of the WCRR project is still on hold and currently not anticipated to begin for another 3 to 4 years. However, the timing of the WCRR is contingent on Provincial budget decisions and actual cost of the SWCRR that will be better understood sometime in September or early October. More on this will follow in the next issue of the Ridge Review, so please stay tuned.
DRCA's Context Sensitive Design Approach
As construction proceeds, the DRCA Ring Road Committee continues to focus on ensuring the roadway is designed and constructed in the most socio-economic and environmentally sensitive manner. We will be maintaining an active communication protocol with AT staff to ensure we are properly informed about key stages of the project and pass this information onto our residents while continuing to be on alert to ensure key context sensitive (not a one size fits all) design considerations are properly implemented, such as:
fiscally responsible design, especially in the current economic conditions;
accounting for changing lifestyle, demographic and mobility trends;
environmentally sensitive design and minimizing overall footprint/cost of roadway;
protecting/conserving as much existing vegetation and terrain as possible, especially close to our residents' north property line adjacent the TUC;
innovative softscaping and above average sound attenuation;
strategic visual screening wherever possible;
strict controls on light pollution;
intelligent construction staging;
consistent communication protocols with AT during all stages of design and construction through to post construction; and
minimizing impact on property value.
DRCA Does NOT Support Regional Ring Road
Although the DRCA was able to convince AT to adapt the phase 1 roadway alignment farther away from our community's north boundary, we continue to disagree with AT's insistence to accommodate a Regional (second or outer) Ring Road in the current constructions design, a concept that was first introduced in 2006. This would mean that the TUC (Transportation Utility Corridor) adjacent to our community and all related overpasses are being planned to potentially accommodate a 14 to 16 lane highway in the future. The DRCA supports the development of the Ring Road, but we continue to lobby to change AT's mandate and limit this highway to a single Ring Road with a maximum of 8 to 10 lanes. Our neighbouring communities of Springbank Hill and Elbow Valley also share this position.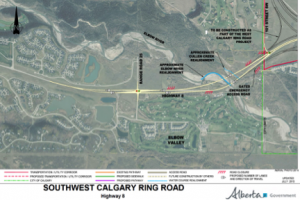 Figure 1: West end of Roadway Proposed – Current
Figure 2: East end of Roadway Proposed – Current
Move Forward Objectives
At this point in time, we continue to work with our MLA Mike Ellis and the Minister of Transportation, Brian Mason, to see if we can shift AT's current objective away from accommodating a second/regional ring road, and to pursue further value enhancing and cost savings engineering changes to the overall roadway design. Your Board and this committee are dedicated to continue the extensive dialogue with our elected officials and senior AT staff to ensure the best context sensitive, functional design is implemented.
The DRCA Ring Road Committee and your Board will endeavour to keep our community up to date on any new information on the status of the Southwest and West Calgary Ring Road.  In the meantime, more information regarding the Southwest and West Calgary Ring Road can be found on the Alberta Transportation website (links below).
https://www.transportation.alberta.ca/w-crrgp.htm
https://www.transportation.alberta.ca/sw-crrgp.htm
You can also visit the DRCA website for past articles that deal with the Ring Road specific to our community.
Please feel free to contact our MLA Mike Ellis (calgary.west@assembly.ab.ca), or Brian Mason (edmonton.highlandsnorwood@assembly.ab.ca), the Minister of Transportation and Infrastructure if you have any comments, questions and/or concerns about the Ring Road.
If you are interested in joining and/or helping out with the DRCA Ring Road Committee, please contact any DRCA Board member.